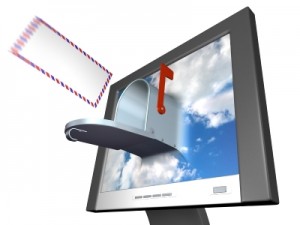 There are many benefits that WildBlue High Speed Satellite Internet service provides for your use. One of the least used is the ability to have multiple e-mail accounts. If you have purchased the Value or the Select Pak from WildBlue you have the ability to create 5 e-mail addresses, each one with 25mb of storage available. If you are living large and have the Pro Pak, you have access to 10 e-mail addresses, each with 25mb of storage capacity available.
I can already hear some of you asking "Why do I need more than one e-mail address?" There are many reasons, some of which I will go into here. But first, how do you create these new addresses? WildBlue high speed internet service has made this very easy for you to accomplish, regardless of your familiarity with computers.
The first thing you will want to do is to access your WildBlue Portal. There is probably an icon on your desktop with a 'W' and labeled as "Portal". If your installer ran the WildBlue Optimizer this icon will be there. If you cannot locate this icon, place this address in the address bar of your Web Browser, www.wildblue.net . When you arrive you will note at the top of the page that you are listed as a Guest. You will want to login with the e-mail address that you chose during the installation of your WildBlue high speed satellite internet service. You will need your username and your password. This default address is one of the e-mail addresses that are allocated for your use.
Once you have logged in, you will note that there is a menu of tasks on the left hand side of the page in your browser. One of the choices is "Manage my Services". Click this item on the menu. At the top of the page it states "Administer my Email account". Go ahead and click on that title. The next window that shows up is labeled "My Account". On one side there will be an icon labeled "My Services" and on the other side an icon labeled "My E-mail". Click on "My E-mail".
This next page gives a listing of your e-mails. The first one will be labeled "Primary account used for authentication". This is the account that was set up when WildBlue high speed satellite service was installed. At the right hand side is an icon labeled "edit". I suggest you leave this address as is.
Below this address you will see several listings that say "Add a new e-mail address to this service" with an icon on the right labeled "Add". All you need to do is click on "Add", and a window will open up asking you to create a username and a password. Once that is done you have created a new e-mail address, straight forward, easy and to the point.
One more step. You need to enter this address into the e-mail client you are using. If you access your e-mail on the web, you are done. If you use Outlook Express or Outlook you have one more step. Open up whichever of these you use and under Tools, go to E-mail Accounts. You will need to enter your username, password and most importantly your Pop3 and SMTP information in order to receive e-mails within that client. WildBlue Corporation has made this simple for you as well. Simply type 'mail.wildblue.net' in both the Pop3 and the SMTP spaces provided. Do not use the quotation marks.
That is it! You have created an entirely new e-mail address. You are probably still wondering why in the world you need more than one e-mail address. There are many reasons, and I will discuss these in a future post right here, so come on back.
Your comments are always welcome so please let me know if this information is beneficial.
Tags: rural internet, rural satellite internet, WildBlue Email Service, wildblue satellite internet