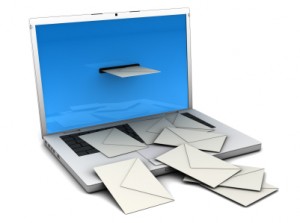 As we discussed in the previous post, WildBlue gives you access to 5 or 10 extra e-mail addresses. At first glance you may seem to see this as redundant, but once you learn how to use these addresses, you will find them to be of great value in keeping your meaningful mail from your worthless mail.
Your 'Primary Account E-mail', that was set up when you opened your WildBlue account should just be left alone. I suggest you use this address for e-mail to your family, friends, acquaintances and any one else important in your life. These are also people that usually do not send the dreaded 'e-mail virus'.
One piece of advice, if you have a friend or family member that is not diligent when it comes to keeping their computer free of vermin, either quarantine their e-mails or give them their own address to write to. And there you are, the first reason for adding another e-mail address. Go to your WildBlue Satellite High Speed Internet account as discussed in the previous post and set up what would be considered one of perhaps many, disposable e-mail addresses.
Use this email for those errant friends and family members that are either unwilling or unable to clean up their computing habits. Add this e-mail into the 'account' section of your e-mail client.
This will lead to another use for added e-mail accounts. WildBlue high speed internet  provides you with a list of 'newsgroups'. These groups discuss issues such as health, cooking, yoga and anything else you can think of. They can be quite helpful when attempting to research a subject, but beware, newsgroups are infested with 'Bots' and 'Spiders'. Both of these programs will troll through newsgroups indiscriminately and gather any and all e-mail addresses posted by readers of the group.
Once you have visited one of these newsgroups your email will grow in volume by leaps and bounds. Make a new e-mail account for this venture. If the volume of spam becomes unbearable, eliminate the address and conjure up a brand new one.
As you can see there are many, many viable reasons for having these extra accounts. They can protect you from getting bombarded by spam, phishing attacks and other unwanted overtures. If you have other members in your family that use the computer, be a big shot, give them their own e-mail address. If it is a child, you can set it up so that you have the abilitity to monitor their activity online.
I have put forth the short version of utilizing the WildBlue additional e-mail service. I am sure you can do some brainstorming and come up with some new and novel ways to use this feature.
Final warning, never click on the 'unsubscribe' link in a spam message. This only alerts the perpetrator that they have "a live one"!
Any questions, suggestions, comments? All are welcome.
Tags: rural satellite internet, wild blue satellite internet, WildBlue Email Service, wildblue satellite internet