White sand dunes as far as the eye can see. River gorges so deep they rattle your soul just looking down into them.  A church so old it pre-dates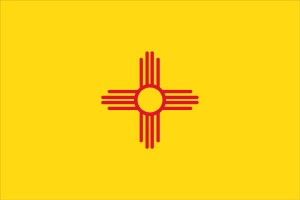 the pilgrims' arrival to America. Ruins left by Anasazi Ancient peoples waiting for your eyes to explore. A yawning cavern that takes your breath away. Rural High Speed Satellite Internet. Mysterious alien sightings. Ok, the latter may be a little far-fetched, but it is part of the lore and lure of New Mexico.
That's a lot of totally enthralling descriptions but even a thesaurus couldn't come up with a word to explain what exactly is going on here so I suppose the state's nickname is as close as you can get: The Land of Enchantment, indeed. You can't go anywhere in this state without having a mind-blowing experience. But you can go everywhere in this state and still get good satellite internet service. I suppose that's a bit mind-blowing, too.
The population is made up of Native Americans, descendents of Spanish colonists and Latinos who were settled here when it was still part of Mexico. Others came later and expanded the peoples to include Europeans and new immigrants from south of the border. The flavor of this mix is experienced in all corners of the state. The state flag is gold colored to remind us of the Spanish quest and the symbol of the sun used by the Native Americans.
The Natives were an agrarian society who many times abandoned their settlements in search of better soil and water which left future archeologists with many ruins to sift through. The Spanish came in search of mythical cities of gold they had read about and the early Mexicans came to mine the gold they believed was also here. The first man to head north believed he had arrived in a new Mexico, thus the name.
The white sands have to be seen to be believed. The foreign-looking landscape almost makes you feel like you've stepped out onto another planet's surface. Of course, tie that in with the Roswell incident report of aliens crashing a spaceship and being kept underground, and it might not look so odd after all!
You don't have to worry about claustrophobia if you visit Carlsbad Caverns because these are probably the largest rooms you will ever be in in your lifetime. It's a great place to visit on a hot day, entering into the cool interior and out of the sun.
I'm not sure about a visit to the Rio Grande Gorge but it looks so beautiful in pictures it might be worth a peak from a distance nowhere near the rim or that bridge! If you're not afraid of heights (or depths for that matter) have a pleasant visit and take a picture for the rest of us who are hanging on to our car doors and sobbing.
So go, become enchanted, or stay and become part of the enchantment; then your job, should you choose to accept it, is to report back using the available high speed satellite internet and thrill us with more of what New Mexico has to offer.
Tags: High Speed Rural Internet, rural satellite internet, satellite internet service