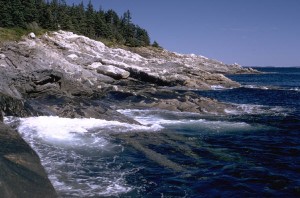 Talk about the need for rural satellite internet! There are areas of Maine that are so remote that in some places only 27 people live in a 2,000 square mile radius. Mountains of pine trees cover 90 percent of the state from the Canadian border right down to the rocky coastline of the Atlantic Ocean.
Large, clear, cool lakes spot the landscape and combined with the miles of coastline, offers vacationers many options to enjoy the Pine Tree State. Appropriately, their license plate says, 'Vacationland'. With the availability of satellite internet service you are never stranded and can continue to stay on top of things while away from home.
Settlements started popping up as early as 1604, starting on Saint Croix Island with the French and continuing with the English settlers on the mainland. Unfortunately, not many survived the harsh conditions and unfriendly local peoples (probably Algonquians) and at the dawn of the 18th century only a handful remained.
Maine was considered to be part of Massachusetts and was not given statehood until 1820 but with a growing French and English population took its rightful place in American history as the 23rd state of the Union. You will still find French-speaking people across the territory and local lineages going back to the original settlers.
Blueberries abound and this is the place to go for the best lobster or crab available. Considering the location, fishing villages are frequent sights with the industry still surviving by working the waters off-shore. Utilizing its natural resources, Maine is the largest exporter of blueberries and (pine) toothpicks in the world! Think of that the next time you are picking your teeth at a diner.
The lengthy Appalachian Trail ends here at Mount Katahdin having started in Springer Mountain, Georgia. Now that's a trek! The trail does pick up again on the Canadian side but this is the end point on the American side.
There are not many companies that have headquarters in Maine, but the state still depends on existing and emerging technologies to live and be productive in the many industries that have businesses in the area. High Speed Rural Broadband Internet is a must since many live and run companies in locations not accessible by land-based services. Even fishing boats and trawlers are able to connect to the internet when away from shore which can be a lifesaving instrument.
Thoreau wrote of its lakes and Edna St. Vincent Millay made poetry out of its beauty. If it had not been for the original settlers who somehow eked an existence out of this wild new world, their offspring would not be enjoying this sometimes harsh environment with the modern benefits that make life much easier. Anyone can camp out in the forests or on the rocky shores for a time, enjoy the peace, quiet and staggering views then go home to a warm place with electricity, running water, and of course, a computer!
Tags: high speed rural broadband internet, rural satellite internet, satellite internet service