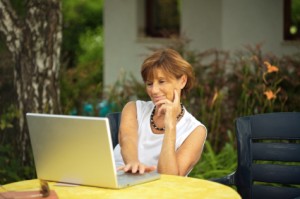 Advancements of Internet technologies have made telecommuting possible, as well as a growing theme with many companies and their employees. The Internet makes communications, advertising, marketing, hiring, and much more possible for businesses. Making teleworkers a viable option in many different industries.
Employees who work from remote locations are often communicated with through e-mail, web conferencing, cell phones, instant messengers, Voice over IP services (VOIP), groupware, virtual private networks, conference calling, and video conferencing.
When employees are permitted to telecommute, it is a win-win for everyone involved. The company reaps benefits, along with the employees, and even the community benefits from teleworkers. High-speed, broadband Internet connections are required to facilitate the work, productivity, and communication of telecommuters.
Companies benefit greatly, while saving large amounts of money by using teleworkers, whether they are full-time or part-time. The major benefit for the company is the increased productivity that is seen in telecommuters. Not only is productivity increased, but also hiring employees who are located in remote locations, expands the employee talent pool, while simultaneously enhancing the companies ability to handle business across different time zones.
As companies permit more and more employees to work from home, it decreased the amount of real estate the business needs to purchase in order to provide adequate office space. Companies owning less real estate is a positive in a couple ways, first, it directly impacts the company budget. The less real estate being purchased, the less money the company is spending; plus the amount of office supplies purchased is drastically reduced as well. By reducing the amount of real estate and office supplies being purchased, the amount of energy the companies uses to run their office while employees are working is reduced as well. All in all the company reduces their budget, while also reducing their carbon footprint.
Another great benefit for companies allowing employees to work from remote locations is the avoidance of productivity interruption. In the event that there were to be a crisis or natural disaster that would cause great damage to the office building, the work could be outsourced to the teleworkers in or to avoid interrupting the company's productivity. Thus reducing the absentee rate due to severe weather conditions, such as blizzards in the winter.
When employees work from remote locations, the likelihood of illnesses being spread from employee to employee is almost completely eliminated, directly reducing the employee absentee rate. Plus employees that work from home typically have a lower stress level, which improves employee morale and increases productivity from 10-15%. Happier employees also reduce the employee turn over rate seen by companies. Individuals who are permitted to telecommute generally experience improvements to their work-life balance. Another great bonus for teleworkers is the money they save on traveling to and from work.
Even the community reaps the benefits of teleworkers. By companies offering telecommuting opportunities, they offer more employment opportunities. It also provides a means for disabled individuals and stay-at-home parents to seek employment in order to support their family. The more people who work from home, the less traffic there is on the road. By reducing the traffic flow on the roadways, the number of traffic accidents will be reduced, as well as the fuel being burned during the commute.
Without the advancements of Internet technologies, companies would not be able to offer telecommuting positions. In order for companies and employees to increase productivity through the use of employees who telecommute, a high-speed Internet connection is needed. When choosing the best Internet option for you area, remember not all Internet options are available in all areas. Urban residents should consider using a cable Internet connection, or a high-speed wireless connections. Satellite Internet is generally the best option for people who live in remote and rural areas simply because that is often the fastest option available.
Tags: High Speed Internet Service, High Speed Internet Technology, Uses for Satellite Internet