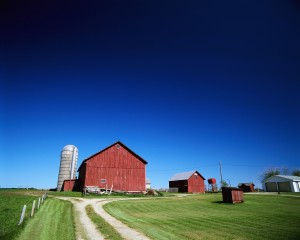 Nestled in a beautiful corner ofVermont, the Liberty Hill Farm is a place where guests can tune in to nature while still being plugged into the internet.  Here, visitors can help out around a working farm and also take in the beautiful views or maybe try their hand at outdoor sports at some of the nearby ski resorts.
Guests' days begin with a fabulous country breakfast served around a dining room table and offering a chance to make plans and meet new friends.  Kids can then choose to play with the farm's kittens, chase chickens or even feed newborn calves.  Meanwhile, there are plenty of other tasks and fun things to explore.  Summer guests can also take time to raft down the nearbyWhite River or enjoy miles of cross country trials.  In the winter, guests can take in some charming nearby villages and ski areas including Killington and Sugarbush.
The atmosphere is also very casual and laid back.  Guests can choose what they want to do and how active they want to be.  Each day at Liberty Hill Farm is different, but will always include home cooked meals and the chance to relax.  Guests stay in the 184 year old main house complete with butternut moldings, maple wood floors and comfortable furnishings to make you feel completely at home.  Since its beginnings as a vacation destination in 1984, the farm has welcomed guests from all fifty states as well as many from around the world.  Many guests are so taken with the region and their stay that they return time and time again.
The good news for travelers is that even when visiting a 184 year old farm, they can still be in touch with others by using satellite internet.  Often times, cell phones won't work in these regions thanks to spotty cell towers and other aspects such as the mountains of Vermont getting in the way of the signal.  In addition, work continues in Vermont to try and bring traditional internet service to all the villages and communities.  However, the work is slow going because of the rural nature of the state and also because of rugged terrain.  In fact, some areas are actually seeing their internet land lines installed using a mule or horse because equipment can't get into some areas.
This is where the importance of satellite internet comes into play.  Instead of having to rely on traditional land line, all subscribers need is a shot into the southern sky.  With satellite internet, subscribers will still get the same fast service as DSL or cable internet and at a very similar price.  The advantage is that you can be located anywhere in the world and still be connected to family, friends and work through the internet in this manner.  This is important for those who will be staying on vacation for a few days to a few weeks and need to remain in touch with the rest of the world. In fact, more guests look for such spots as the Liberty Hill Farm to make sure that they are online.
Tags: High Speed Satellite Internet, Rural Broadband Internet, Rural Resorts And Satellite Internet