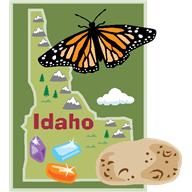 Idaho, land of the Shoshone, feared enemy of the Plains Apache.  Larger in area than all of New England combined yet with a population the size of Philadelphia, it's not hard to be far away from civilization with nothing but satellite internet to keep in touch.  Vast snow-capped mountain ranges dominate the rugged landscape with deep canyons and the great rivers, Snake and Columbia carving their way through this Rocky Mountain state.  When one thinks of Idaho, it's easy to think that there's nothing there but wilderness and potatoes.
Originally created by Congress in 1861, far before satellite internet service but following the Pike's Peak gold rush, the Idaho of  today was part of the Colorado Territory which included parts of the Kansas, Nebraska, Utah, and even New Mexico Territories all the way south to the Rio Grande River.  No small part of the decision to incorporate this territory was the onset of the Civil War and Congress' determination to maintain control of the mineral-rich area.  In the same year Congress created Idaho County, a southern portion of Washington Territory which, in 1863, became part of the new Idaho Territory, which included portions of the Washington, Oregon and Dakota Territories.  It wasn't until 1890, after decades of haggling between the Territories over sovereignty, that Idaho attained full Statehood. Modern historians agree that this was all done with the chief intent of confusing future Idahoans studying their state's history.
Today, Idaho has a thriving modern society which relies heavily on agricultural exports and tourism as vital parts of its economy.  The state's dramatic topography, complete with mountains, streams, rivers, lakes and gorges, combined with a moderate Winter climate makes it ideal for both recreational and retirement use.  Visitors can enjoy shooting river rapids and excellent fishing in Idaho's abundant waterways, or mountain climbing and snowmobiling to their heart's content in many of the state's regions.  For the true outdoors man there is the 2.3 million acre Frank Church-River of No Return Wilderness Area, the largest unspoiled nature preserve in the continental United States.  That's a lot of room to wander if you want to 'get away from it all'.  I know that if I were there, I would surely wish to bring my rural satellite internet with me!
Not to be overshadowed by Idaho's natural endowments and its lumber, agricultural, and mining industries, the science and technology industry accounts for more than three-quarters of Idaho's export dollars and twenty-five percent of the state's revenue.  From semi-conductors to laser printers, this makes it the largest single portion of the state's industry.  And you thought Idaho was all about potatoes, didn't you?
If that isn't enough to demonstrate how far Idaho has come from a gold miner's fantasy to a modern member of the world community, consider that Continental Airlines, United Airlines, Safeway Foods and JC Penny all have their roots firmly planted there.  In fact, there is even a chance that the computer you are using at this moment, or the broadband satellite internet you use, contains components made by Micron Technology, Hewlett-Packard, Sun Microsystems or any of a number of high-tech industries located in Idaho.  And those companies, folks, are not small potatoes!
Tags: broadband satellite internet, rural satellite internet, satellite internet service