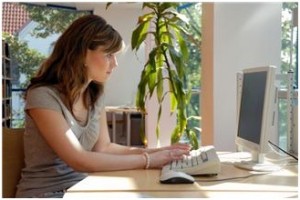 I run into tons of people who confuse DSL and fast satellite internet connections.  It is understandable that not everyone can distinguish between the two.  I wanted to resolve the confusion associated with these two ways of connecting to the internet.
What is a fast satellite internet connection?
This type of internet connection utilizes down and upstream data, which is shared between a computer and a satellite.  In order to connect to the internet with a satellite, a transceiver and an antenna is used for transmitting data.  Depending on the "traffic" and the capabilities of the server, the downlink speeds are lesser in comparison to the uplink speeds.  One downside to a satellite connection is that there are high latency periods due to signals having to travel far distances.  This means that the requesting data and responses can prove long at times.
The upside to fast satellite internet connections is that it is available in locations where typical internet access is not.  This occurs primarily in rural areas where DSL and Cable Internet companies have not formed roots.  This type of connection provides you with worldwide internet connections.  Satellites are readily accessible to people living in rural areas.  Rural areas of the United States do not enjoy the amenities of DSL or Cable services which is why satellites are popular in these particular areas.
What is Digital Subscriber Loop (DSL)?
This technology entails transmitting data via a phone line.  DSL divides frequencies of phone lines into two bands that aids with supporting voice transmissions.  The band that is higher-frequency carries data with the lower one utilized for transmitting voice signals.  A DSL transceiver is literally plugged into a phone line.  When connecting to the internet, it checks the connection between the computer and itself for connectivity.  Synchronization is performed in matching the characteristics of the line.
Comparing DSL to a fast satellite internet connection
A fast satellite internet connection allows for permanent connection to the internet.  It provides constant bandwidth with two-way internet access.  This is great for accessing the internet no matter where you are.  DSL cannot provide this amenity.  Keep in mind that DSL works through phone lines while not offering constant availability or speed.  Another thing about DSL that is not positive is the fact that many cables have to be installed in order to utilize it.  Satellite connections do not require excessive wiring.
Which technology is best?
Any type of internet connection has pros and cons.  You will find advantages with some as well as disadvantages.  You have to decide which technology is best for you and your particular circumstance.  Some people enjoy DSL because it proves a little cheaper than a satellite.  Where the DSL is cheaper, some people like the accessibility of fast satellite internet connections.  Internet users who live in rural areas typically only have a choice between dial-up and satellites.  Now that you have the information on both of these technologies, the decision to decide which technology is best for you should prove easier.
Tags: High Speed Broadband, High Speed Internet, Satellite Internet vs DSL