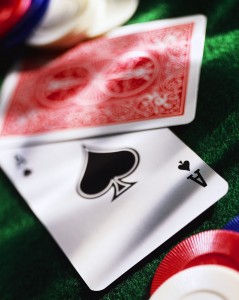 Every day there are millions of people who sit in front of their computers and use their high speed internet access to play such games as online poker.  However, online poker is not something that American citizens can play.  This is because it is illegal for Americans to gamble online.  However, in recent years there has been more and more of a movement to try and reverse these laws.  There is a large debate about whether or not online gambling should become legal on American soil.
Because online poker is currently illegal in the United States, a $6 billion online poker industry has sprung up overseas.  However, many of these sites refuse to accept players from the United States because it can bring unwanted scrutiny and headaches for the company.  As a result, American players must either play for free or take their chances on less reputable sits which still accept players from this side of the pond.  Of course without fast internet access none of this would be possible anywhere in the world.
In recent months, the United States government also cracked down on foreign online poker operations with the FBI charging eleven people with fraud. Many now believe that this move is allowing for a great opportunity to bring thousands of jobs back home and generate revenue and taxes by opening up legal online poker in the United States.
There are literally millions of Americans who are willing to spend their money in online gaming sites such as those which offer online poker.  In fact, once the FBI helped shut down three online poker sites, others had filled the void within hours.  This means that there is a huge demand for betting through a high speed internet connection.  In fact, the current ban on online poker has many similarities to the era of Prohibition in the 1920s.  Both then and now, business is being diverted from hundreds or thousands of legitimate respected companies to those which are fly by night and underground operations.  As a result, consumers lose all protection that they have with government regulated onshore businesses.
However, if online poker was legitimized in the United States, it could be regulated in such a way as to make it safe for the company and the player and protect them from fraud and cheating.  This can be done with the use of state of the art technology and other gambling controls which include limits on deposits, wagers, losses and playing time.  This move would create hundreds of new companies which would employ American workers in order to make sure that the site is running correctly and to answer any questions from users.
Already there is plenty of high speed broadband internet technology in place that will allow for users to partake in online poker.  Traditionally, one needs a reliable and fast internet connection.  One way to get online in this manner is through satellite broadband.  Not only would you be able to play in real time, but the connection would also be secure so you would not have to worry about your account being hacked and any pertinent information being stolen.  With more and more people on satellite internet, there is a whole new audience out there waiting to start gaming online.
Tags: Fast Internet Access, High Speed Internet Gaming, Satellite Internet Gaming