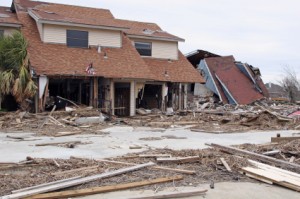 As we near the date of Hurricane Katrina's destruction and the 9th anniversary of 9/11, it is a good time to see how far we have come in correcting severe communication breakdowns in both disasters. We may not be able to prevent all disasters, but we can improve our response. One of the main components of that response is communication.
Satellites are key in planning emergency responses by local, state and the federal government. Everyone seems to have learned the lesson that lack of communication will make a disaster a catastrophy for the individuals that are affected. We have all heard the tapes from 9/11 of firemen and police officers unable to communicate with each other or with other emergency responders. We repeated this scenario again in the aftermath of Hurricane Katrina.
Emergency personnel attempted to use wireless communications during these events, but if the terrestrial infrastructure of communications towers and other infrastructure that makes up the backbone of wireless communication is disrupted by the effects of a disaster they are of no use. This is why so many communities have been turning to satellites for their communication needs in these circumstances.
Satellites' wireless communications infrastructure is not susceptible to damage from disasters. The main repeaters sending and receiving are the satellites themselves and they are located outside the Earth's atmosphere.
Geostationary satellites have been in use for quite some time to provide seismic and flood sensing data to government agencies. There are also low Earth orbit satellites that broadcast warning notices and provide communication and information flow between government agencies and the public. Geostationary satellites can operate with handheld units about the size of a large cellular phone, making it a good solution for people in the field. Satellite communications are capable of providing narrowband and broadband IP communications. This places their speed in the range of 64 Kbps up to 4 Mbps using portable equipment. If using fixed infrastructure, speeds can ramp up to 40 Mbps. In the case of disaster relief, reliably functioning equipment will trump speed in most cases so portable equipment that is less likely to be damaged is one of the first choices relief agencies will make.
For portability an entity can choose from Transportable VSAT terminals, Portable VSAT terminals, handheld terminals and Mobile VSAT terminals. A Gateway or Hub antenna would be a fixed terminal. These can still be very useful as many times these terminals are located outside of the disaster area.
States such as Georgia, Texas and California are adopting these methods for their emergency communications and more states have proposals in the works to get on-board with satellite communications. This method of communicating will become the norm and will aid agencies in providing the services that they are trained to provide.
We have been getting our weather updates from satellites for a very long time so it is a natural leap to move our emergency services to this communication medium.
Tags: rural internet, rural satellite internet, wild blue satellite internet, wildblue satellite internet