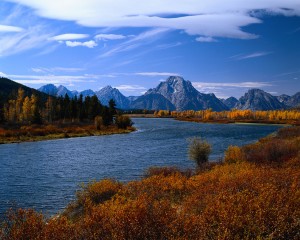 I bet it would have made a big difference in the outcome had they had access to computers and high speed broadband satellite internet but unfortunately we'll never know. They didn't know that the Indians had already driven back 10 cavalry companies at an earlier battle which prevented that contingent from getting word to the other columns, including Lieutenant Colonel George Armstrong Custer, that there were huge numbers of Native Americans involved.
Had they been able to plan this battle with the use of satellite internet, the improved communications would have forewarned these ill-fated men that they were outnumbered. Instead, they went ahead to certain death.
This all took place in Montana, which is called the 'Big Sky Country' for good reason. It is BIG! Larger than all other states of the Union besides California, Texas and Alaska, it also has very few people living there leaving miles upon miles of empty glorious land. I'm not condoning this, but I hear there are no speed limits on some of the longer stretches of highways around the state because there is just no traffic!
This may explain the problems encountered by the troops attempting to move the Indians onto reservations. In such a vast land the Arapaho, Lakota and Cheyenne were able to move about without notice and combine to become the great fighting force that brought down Custer.
Even without modern day technology to help the troops, they did have the benefit of using scouts to go ahead of them to find the lay of the land and report any sightings of hostile Indians. This resulted in the scouts informing George Custer that there were large herds of horses and a village in the distance indicating the possibility of a very strong opposition force. Custer went back with them to the lookout point and could see none of the things the scouts could see so decided to go ahead with a dawn attack.
Uh-oh, not a good decision as it turns out. There are still a lot of questions surrounding the stories of this famous battle, especially the ones that do not shed a good light on the Lieutenant Colonel. All that is known for sure is that these Indigenous tribes, led by the likes of Crazy Horse, planned their response and were very successful. Sitting Bull is said to have had a vision of this event which was the inspiration for the tribes to come together in one of their final efforts to keep from being sent to reservations.
We know that the Indians of the area were eventually moved off of their land or died trying to avoid it. Not a great moment in our history but this does not, in any way, overshadow the fact that Montana is a great place to be.
So, whether you are travelling through from the eastern plains to the western mountains of Montana, remember you will also be able to hook yourself up to high speed broadband satellite internet wherever you roam or live. You can make Montana your last stand against a busy and crowded world. Enjoy!
Tags: High Speed Satellite Internet Service, Rural Satellite Internet Service, satellite internet