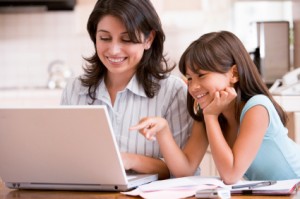 We have just made it through one of the largest shopping weekends of the year, which included Black Friday and Cyber Monday.  However, it was only a few years ago that Cyber Monday did not exist.  As online stores begin to become more widespread they begin to find ways to get involved in the Christmas Rush that Black Friday seem to bring.  Initially it was not taken all that well, as people still favored the traditional brick and mortar retail stores.  This initial lack of acceptance was also due to the fact that internet speeds were so slow with dial-up internet still being the most common type of residential internet access.
Now however, Cyber Monday attracts almost as much interest as Black Friday does.  This shift is due in large part to the drastic increase in speeds that broadband internet access has allowed.  People are now able to literally sit on their couch in their pajamas and do their shopping and get the products shipped straight to their house.  This means no more getting up at 3:00am to go and stand in line to save 100 bucks on the latest electronic gadget.  The argument for some may be that Black Friday specials have larger discounts.  This might be true; you may save an extra $20 dollars or so by getting out that early in the morning, but you have to consider how much in gas driving around to all the different retails stores.  In addition, you have to ask yourself how much your sanity is worth when dealing with all the crowds that early in the morning.
It seems that the difference in discounts between Cyber Monday and Black Friday savings seem to be getting smaller each year though as websites are finding more innovative ways to offer discounts.  After all it would make sense that online retailers would be able to offer larger discounts due to the lack of storefront and overhead costs.